An ICO stands for Initial Coin Offering but what is actually an ICO? An ICO is an emerging financing model whose main objective is fundraising through the creation of a cryptocurrency or tokens and its subsequent sale to develop new projects or Start-ups, and it is also a digital assets investment opportunity.
It is a booming proposal, being an alternative to the rigorous conventional financing process through banks, business angels, crowdfunding systems or venture capital entities.
How does an ICO work?
It is all about the creation of new cryptocurrencies to support a specific project. That is, when the developers of a project have a well-defined plan, they launch the ICO fundraising campaign.
Said project will be included as a technical and commercial proposal in a whitepaper where its purpose, its goals and estimated deadlines to achieve said goals will be described.
For the execution of this project, its developers create Tokens that will be available for sale and through which investors will provide the necessary financing.
Most of the ICOs begin with a pre-sale of a certain amount of the «new currency», which will be purchased by investors through other cryptocurrencies such as Bitcoins or Ethereum, although in some cases they can also be purchased with traditional legal tender currencies in order for the project to be launched with those raised funds.
Who can invest in an ICO?
Almost anyone, because the entry barrier or participation fee is usually minimal and will depend on the number of cryptocurrencies intended to be purchased. However, the participation of certain investors is forbidden in some ICOs because of their nationality and the laws of their country.
An ICO is characterized by its open participation, admitting from the largest to the smallest investors, which becomes a great investment opportunity.
It is worth emphasizing that many of these projects fail or do not reach their expected scope, leading to zero benefit. However, successful projects have returns of between 5,000 and 10,000%.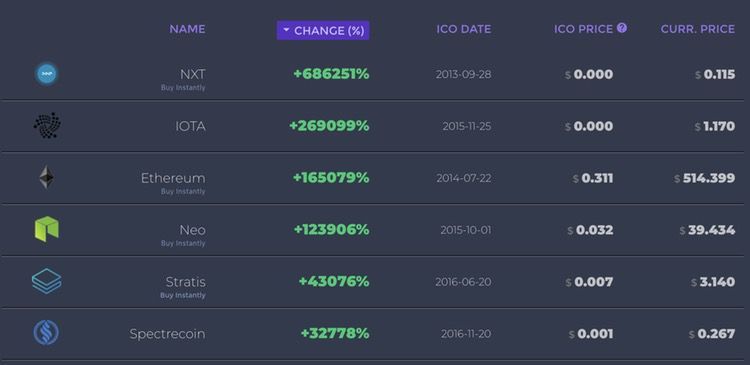 What is the difference between an ICO and an IPO?
IPOs (Initial Public Offering) are a company's traditional share offerings that can be traded both privately and in the stock markets within the corresponding regulatory framework of their jurisdiction or government, meeting certain legal requirements to enter a legal contract between companies and investors.
By contrast, properties or shares of the project itself will not be available during ICOs, but rather the emerging offered cryptocurrencies, which are estimated to quote overtime and have a later utility.
Likewise, other types of benefits are possible, such as rights over the performance of the project in question, participation in the form of votes within the project's board of directors, use of the services offered by project could offer, the right of subsequent sale of the purchased cryptocurrencies that in theory will revalue an economic benefit will be obtained
Risks
Normally, when foreseen objectives are not achieved in an ICO and the sufficient resources are not obtained to develop the proposed project, a reimbursement is made to investors.
However, there are no solid guarantees in the recovery of the money invested due to the lack of defined legal bases, which is why it is considered a high-risk investment.
Red Flags
As this innovative financing modality grows, speculation and fraud attempts also grow. There are some details we must keep an eye on before investing in an ICO.
For instance, when project developers use nicknames instead of their real names, when they are barely unknown and are not reputed within the cryptocurrency space, the risk is considered to be higher.
Another red flag is that during the fundraising process the accounts are not insured with an escrow or the functionality of multi-signature accounts is not used, in which the authorization of several people is required for any transaction.
When an ICO objectives are unrealistic, ill-defined, poorly structured or lack a roadmap detailed in a whitepaper, it might be a fraud or a project doomed to failure.
The lack of transparency in the progress of the project. If developers simply do not take the trouble to publish and keep abreast of the progress they are making with the investment received, it is a reason to be wary.
 How is an ICO campaign announced?
ICOs campaigns generally have a specific time and are advertised via internet through social networks (although such campaigns were banned by some at the beginning of 2018) and platforms are currently being developed where new ICO launches are concentrated with all their details.